News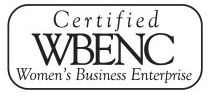 WBENC Certifies W.A.McGinty Co.
Elk Grove Village, IL., August 21, 2017 -- W.A. McGinty Co. announces that it has been certified by the Women's Business Enterprise National Council (WBENC), the country's largest third-party certifier of businesses owned, controlled, and operated by women. Certification by WBENC provides organizations committed to diversity confirmation beyond self-reported status that a company is truly owned, operated and controlled by a woman. W.A.McGinty Co. is proud to have received the WBENC Business Certification.
Testimonials
We measure our performance based on how we meet the needs and expectations of our customers. Here is what our customers are saying about us.
Stuart M. – Corporate Compliance Manager - Bearings
"We are a multi-billion dollar sales company, and have partnered with numerous brokerage firms over the years; none have come close to the professional, personal touch we receive from McGinty, with their attention to detail and problem-solving skills necessary for our import business to succeed and thrive. Wm. A. McGinty Co. continues to be a valued business partner, and has been for 30+ years."
Debbie W. – Bearings/Automotive
"I have been working with William A McGinty Co. for over 18 years and have always found the entire staff to be helpful, courteous, and professional. Always willing to go above and beyond whenever I need anything. I look forward to working with them for many years to come."
Percy H. – Materials Manager – Industrial Machinery
"William A. McGinty Co. has been our freight forwarder since 2008 with never having any problems with inbound or outbound freight. Always receive our freight in on time with never any damaged packages."
Carmen H. – Transportation Specialist – Cleaning Products
"William A. McGinty has provided awesome freight forwarding services for (our company) for almost a decade. They value the importance of maintaining communication between the importer and customer. They have years of experience and constant attention to detail for our international needs."
Shana M. – Packaging/Fabrication
"William A. McGinty Co. is a great company. The staff is knowledgeable, helpful and a pleasure to work with!"
Sabrina C. – Medical Gloves
"Great company to work with and service is impeccable!"