William A. McGinty Co. welcomes you!

We are a licensed, full-service customs brokerage and freight forwarding company, located in Chicago, Illinois, offering worldwide logistics services. Call us for a free review of your import program.
News
Min and Max Customs Cobra Fees Increased
Effective October 1, 2018, the minimum and maximum Customs Cobra Fees will be increased. While the base rate of 0.3464% remains unchanged, the minimum will increase to $26.22 and the maximum will increase to $508.70 per entry. This announcement comes in the August 1, 2018 Federal Register (Vol. 83, No. 184, P. 37509; CBP Dec. 18-08). The effective date is based on the date the entry summary is file with CBP. For Specifics, you can click on the links or feel free to contact our office.
Third Wave of China Duties Hits
Effective September 24, 2018, the third wave of Sec. 301 duties will be due on merchandise produced in China. This will result in an additional 10% duty on all affected merchandised found in China List 3. It is said that this comes at a worth of $200 billion. It is also announced that this duty will increase to 25% on January 1, 2019, if an acceptable trade deal is not signed by then. For details, you can review the Federal Register (83 FR 47974). The effective date is based on date goods are entered for consumption, or withdrawn from bonded warehouse for consumption.
INCREASED DUTY ON STEEL AND ALUMINUM IMPORTS
On March 8th, 2018, Mr. Trump signed two Presidential Proclamations. The first will increase the duty rate on certain steel products by 25%. The other will increase the duty on certain aluminum products by 10%. In both cases, it will apply to all countries of origin, with the exception of Canada and Mexico (NAFTA countries) and is in addition to the current rates of duty. These increases are effective March 23rd. Therefore, for all steel and aluminum products which are effected, and are entered, or withdrawn from warehouse for consumption , on or after 12:01 AM (EST) on March 23, 2018, these increases shall apply.
For a detailed list of products (by HTSUS sub-heading) effected by these tariff hikes, please see copies of both Proclamations linked here. ( Aluminum , Steel ) Should you have any questions concerning your products, please do not hesitate to contact us. Our contact information is at the bottom of this web page.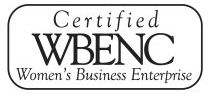 WBENC Certifies William A. McGinty Co.
Elk Grove Village, IL., August 21, 2017 -- William A. McGinty Co. announces that it has been certified by the Women's Business Enterprise National Council (WBENC), the country's largest third-party certifier of businesses owned, controlled, and operated by women. Certification by WBENC provides organizations committed to diversity confirmation beyond self-reported status that a company is truly owned, operated and controlled by a woman. William A. McGinty Co. is proud to have received the WBENC Business Certification.
Testimonials
We measure our performance based on how we meet the needs and expectations of our customers. Learn what our customers are saying about us, shown below and on our
Testimonials Page
.
Stuart M. – Corporate Compliance Manager - Bearings
"We are a multi-billion dollar sales company, and have partnered with numerous brokerage firms over the years; none have come close to the professional, personal touch we receive from McGinty, with their attention to detail and problem-solving skills necessary for our import business to succeed and thrive. Wm. A. McGinty Co. continues to be a valued business partner, and has been for 30+ years."
Debbie W. – Bearings/Automotive
"I have been working with William A McGinty Co. for over 18 years and have always found the entire staff to be helpful, courteous, and professional. Always willing to go above and beyond whenever I need anything. I look forward to working with them for many years to come."
Percy H. – Materials Manager – Industrial Machinery
"William A. McGinty Co. has been our freight forwarder since 2008 with never having any problems with inbound or outbound freight. Always receive our freight in on time with never any damaged packages."
Carmen H. – Transportation Specialist – Cleaning Products
"William A. McGinty has provided awesome freight forwarding services for (our company) for almost a decade. They value the importance of maintaining communication between the importer and customer. They have years of experience and constant attention to detail for our international needs."