Our Team

Learn about our team of licensed & experienced, professional US Customs Brokers, Foreign Freight Forwarders based in Chicago, IL.
The Greatest Resource Our Company Will Ever Have Is Its People
Mr. McGinty stated over 60 years ago that our success and growth were due to "the result of hard work, integrity, and understanding the customer's point of view!" Integrity was the foundation of William A. McGinty Co. and continues to be so today. We are a very proud, loyal, and honest company. While Mr. McGinty has since passed, we continue to demonstrate these qualities daily, through our business interactions. Our talented and dedicated staff works tirelessly to maintain these standards today.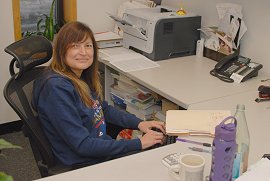 Alice Marie Estrup – President
Alice Marie began working for Mr. McGinty (who also happened to be her Godfather) and her father, Theodore L. Estrup III when she was fifteen, after school and summer breaks. Alice Marie started at the bottom doing clerical and data entry jobs. She continued to work for the company throughout her college years at Western Illinois University on school breaks. Alice Marie graduated with honors earning a Bachelor's Degree of Business. She majored in Management with an emphasis in Organizational Behavior and Management. Upon graduation she began working full time at William A. McGinty Co. Alice Marie immediately started studying for the U.S. Customs Brokerage exam and attained her license in April 1996. Shortly thereafter, she became the responsible supervisory license holder for the company. Today she is the President and owner of William A. McGinty Co. When not in the office, she greatly enjoys international travel with good friends; organic gardening; spending time in nature, and reading.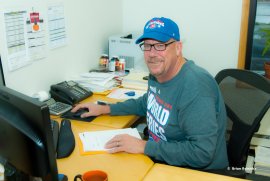 Tom Nielsen – Vice President
Tom began his career in the Customs Brokerage industry in 1986 with one of the largest firms in Chicago. He quickly found himself being mentored by the top people at the firm and was put in charge of very special projects such as steel, jet fuel, and crude oil coming in from Canada through the pipeline. With these unique experiences, he quickly became addicted to 'the industry' and decided this was the career he was meant to pursue. Tom began studying rigorously for the Customs Brokers exam and passed the Fall exam in 1994. In January of 2000, Tom joined the William A. McGinty Co. team as Operations Manager. He was a strong force in the development of their International Freight Forwarding service and today is the Vice President. While Tom is away from the office, he enjoys golf, fishing, and spending time at the lake. He is also what one might call a fanatic when it comes to the Chicago Blackhawks.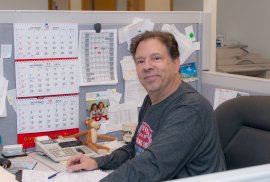 Brian Reinicke – Operations Manager
After 2 years in the freight forwarding industry, Brian Reinicke began his career in the Customs Brokerage industry in 1985. Brian passed the Customs Brokers test in October of 1988 and was officially issued his license in January 1989. Brian was hired at William A. McGinty Co. in February of 2007. A major part if his responsibility is to supervise the daily processing of the workload in his position as Operations Manager. In his free time, he enjoys computers, photography and classic rock music with an emphasis on Led Zeppelin.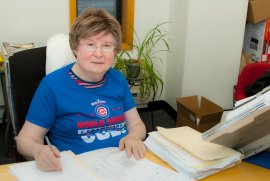 Joan Gall – Tariff Analyst
Joan is one of William A. McGinty Co.'s originals. She began working in the industry in 1968 and came to William A. McGinty Co. in 1971. She passed her Customs Brokerage Exam in September of 1979. In her early days, Joan wore many hats and handled all the tasks involved with a smaller sized Customs Broker, especially in the days prior to automation. For the past several years, she has dedicated herself to be our Tariff Analyst, using her vast knowledge of the HTSUS. She is a true expert in this arena. Today Joan is partially retired but we still rely on her for special projects. She is the true definition of what is called a 'lifer'. In Joan's spare time, she enjoys international travel, art, and music.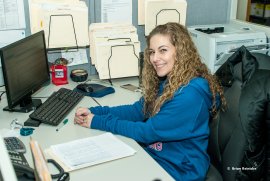 Stacey Benesch – Account Supervisor
Stacey began her career at William A. McGinty Co. in July of 2000. Coming from a background of Customer Service in the printing industry, Stacey was a great fit. Stacey is responsible for Ocean Import shipments and provides special personalized service to one of McGinty's most valued customers on a front to back basis. She is more than willing to assist clients and fellow coworkers' in all areas. With her numerous years of service, she is more than capable. Stacey has proven to be a great asset to the company and continues to develop her skills every day. During her time away from the office, Stacey enjoys spending time outdoors with her family.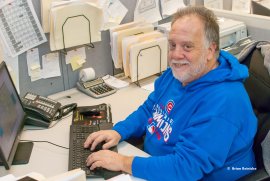 Craig Pivoney – Air Import/Drawback Specialist
After 25 years with the U.S. Customs Service/Dept. of Homeland Security, Craig decided to come over to the other side. He began his career with William. A. McGinty Co. in Oct. of 2004. He is responsible for the Air Import shipments. He also handles warehouse entries, withdrawals, and drawback claims. As with all of our team, Craig is more than willing to help out in all areas and does so on a daily basis. When not in the office, Craig enjoys watching and attending various sporting events and travelling to visit his family which is quite extended.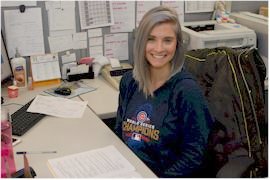 Danielle Reinicke – Ocean Import/Traffic Coordinator
Danielle came to William A. McGinty Co. as a part time employee while she was still attending High School. Her initial responsibilities included filing and miscellaneous jobs around the office. After graduation Danielle went on to pursue her interest in Hair and Beauty and received her Cosmetology License while continuing to work part time at William A. McGinty Co. Once she finished Cosmetology school, she decided that she was interested in this industry and requested a full time position at William A McGinty Co. She is now the Ocean Import Traffic Coordinator and her responsibilities include customs clearance and delivery of our ocean import shipments. Outside of the office, Danielle enjoys fitness and exercise, traveling, cooking and dance.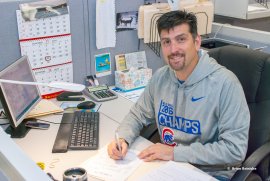 Frank Bavaro – Ocean Import Coordinator
Frank's professional career has always revolved around customer service, management and sales. For over fourteen years he managed a customer service department for an online retail company and eventually started his own small online retail business where, for over 5 years, he again managed the daily operations of sales/customer service. In growing his business, he extended his sales internationally and shipped to every continent around the world. This, in turn, led him to William A. McGinty Co. where he is currently our Ocean Import Coordinator. Frank passed his Customs Brokerage Exam in November of 2017. Frank works with our many clients to ensure the accurate delivery of their information to customs while also ensuring a smooth and seamless delivery of their goods. He graduated with a Bachelor of Science in Business Administration from Roosevelt University in Chicago. In his spare time he enjoys music, spending time with his family, traveling and just about any outdoor activity (fishing, hiking, biking, camping, sports).